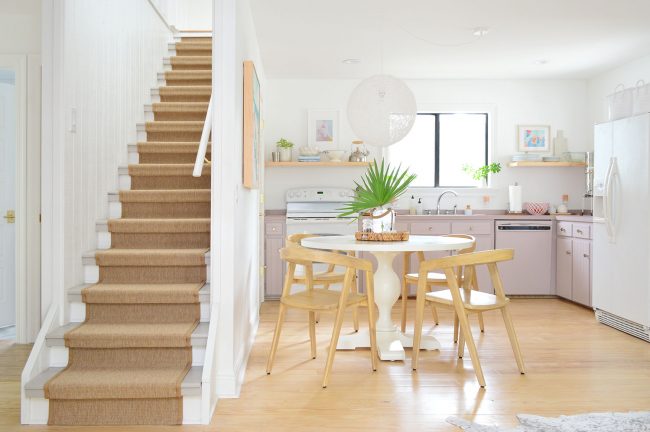 Sherry recently hinted on Instagram Stories that we were up to our old staple-coloring antics. And by that I mean we were installing another stair runner (admittedly one of the less popular definitions of "antics"). But after installing one in our old house 7 years ago it has become one of our favorite projects – just because we truly believe anyone can do it, and whatever runner you choose can give you a totally different look (and a nice grip underfoot, but more on that functional upgrade in a minute).
Why We Wanted A Stair Runner
Before we get into the "how" of adding this runner, let's talk about the "why." We're not people who automatically default to covering our stairs. At our beach house, for instance, we decided against a runner because the original wood was so charming. We eventually did add some temporary stick-on runner treads to help our chihuahua, Burger, navigate the stairs more easily (we used this removable tape to hold them down, and it came up cleanly later when we sold the house).
Continue reading How We Installed A Stair Runner at Young House Love.