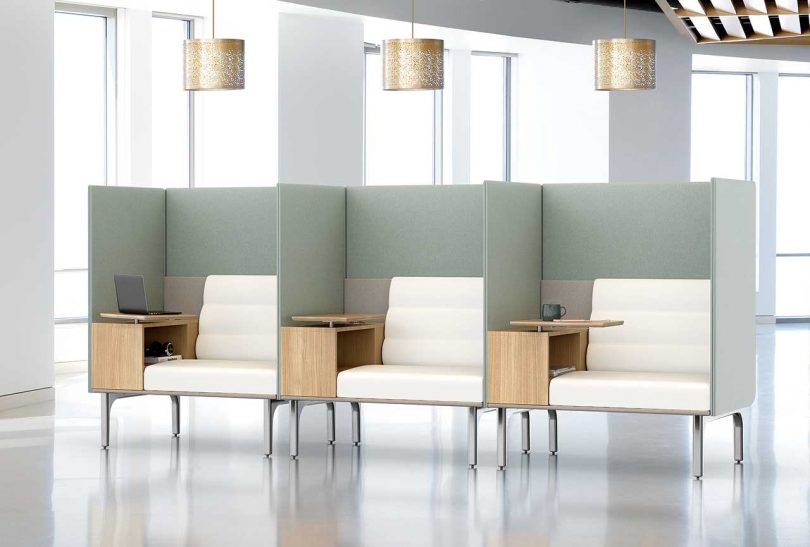 Looking back, it seems like contract furniture brands were ahead of the curve when they began making privacy furniture for open plan offices a few years ago. At the time privacy furniture was designed to give employees a place to focus with higher padded walls that help reduce typical noise associated with open workspaces. Now, those very designs will be extra important as people start heading back to the office post-pandemic in order to help keep everyone safe and healthy. Designed by Qdesign for Arcadia, the Iso Work Lounge offers a semi-private enclave for privacy and focus, while providing a bit of a barrier from workplace neighbors.
The Iso Work Lounge comes in various models that allow flexibility, whether it's more closed off for privacy concerns or a more open design that encourages collaboration. The modular series comes in single and two-seat models available with or without privacy panels to form customizable setups that can easily be rearranged when needed. Whether it's a single with privacy panels for complete focus, or loveseat models when a meeting is necessary, or armless lounge and loveseat models to create an open arrangement for a lobby or waiting room.
An optional open-shelf cubby is available in walnut and white oak veneer or laminate, and it comes with power and generous storage for personal items. There's also a rotating tablet that makes for a convenient work surface when needed. Even without the cubby, the units can be outfitted with electrical access underneath the seat in a mounted power unit.