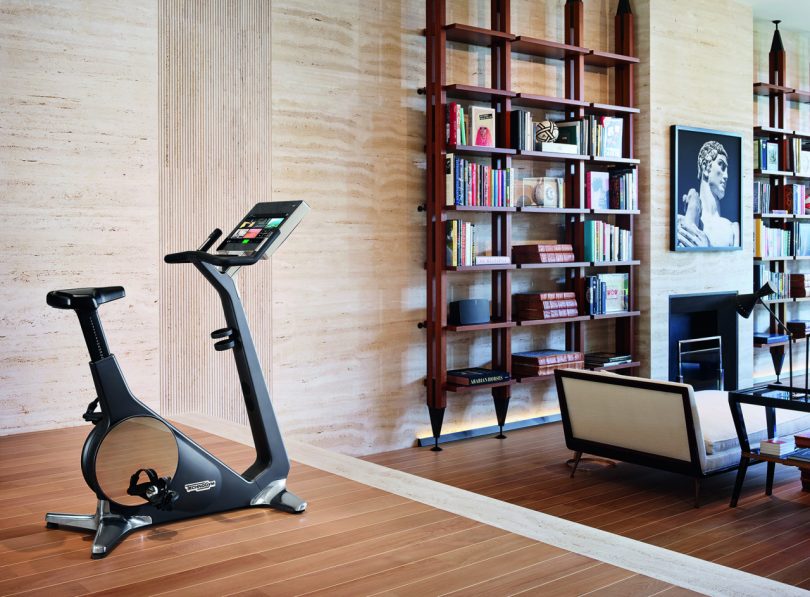 Exercise equipment generally follows the dictum of form shall follow function, a rational requirement noting the wear and tear associated with products regularly subjected to constant sweat and the stress of constant motion. Which makes the work Italian architect and designer Antonio Citterio for luxury gym equipment brand TechnoGym a rare exception in its functional beauty.
Citterio's designs for TechnoGym's PERSONAL Line are characterized for their sculptural elegance, with gently sweeping forms hinting of Streamline Moderne, yet undeniably contemporary. Each surprisingly compact (yet confidently heavy), each of the six designs are embellished strategically with sections of micro-polished steel and aluminum; the sum of these parts result in equipment even heavier than many of their industrial gym machine counterparts, emphasizing the durability of exercise equipment intended for decades of use.
After demoing the Bike Personal, we spoke to the 71-year young "gentleman of design" about what it's like to apply an architect's perspective to the task of designing objects perpetually in motion.
Naturally there are some obvious parallels between designing a piece of gym equipment like the Bike Personal and furniture intended for sit comfortably. What similarities and differences have you discovered in designing gym equipment informed by your work for the likes of Vitra and B&B Italia?
It is interesting to work on different themes because of the "osmosis" that can occur among objects of different nature. At a first glance, it might seem more complicated to approach the design of fitness equipment rather than a furniture piece; however the complexity of designing an office chair, as an example, is actually very similar to the one found in fitness equipment.
The complexity of product design is different from the one found in architectural design, but my approach is the same in the two disciplines: what counts is the teamwork – the possibility of having people with varied expertise working towards a common objective. My role is to provide directions to these integral teams, both in architecture and product design.
How did you envision these pieces of equipment inhabiting a personal versus public space?
In the case of the products belonging to the "Personal" line, it can be said they have been designed to have their own dignity and iconic identity, exactly as it happens with furniture pieces for our living spaces. Thanks to this approach, fitness equipment is no longer a "machine" that is located in a specific room, but it becomes part of our daily lives.
What was the process in determining which materials could endure the rigors required of a workout machine in relation to the goal of producing a beautiful design object?
We encounter no such problem as "design" means to approach these exact issues. I introduced die-casted aluminum in the Personal Line machines for this reason: the aluminum undergoes die-casting, which makes it simultaneously lighter and more robust.
Alongside the Personal Bike, you've designed a kinesis system, recline, bench pressing frame, elliptical machine and a treadmill. Of all of these, which proved the most challenging and why?
The Kinesis Personal, the first one I designed for TechnoGym, was the most challenging due to the effort in reducing the dimensions of the fitness club version of the Kinesis equipment.
Has there been any feedback from use that you feel like may help improve future iterations of your gym equipment designs?
I've received positive feedback from people that have actually used the machines. Generally speaking, what interests me is the relationship between companies and people. I have had close relationships for many years with companies like TechnoGym, and this longevity has proven to be the best method. I typically choose to work with those who share my vision and my design language; together, we participate in the risks connected to a specific project. I believe that this instils a great confidence in them, as they are encouraged to invest in assignments of a different nature
Do you practice what you preach and workout with any of these machines regularly?
I own two Personal Line machines, Cross Personal and Run Personal, and use them three times a week. Exercising is part of my routine – I'm now fully aware of how the equipment functions by using these machines regularly.